Ways: solutions to save the Cerrado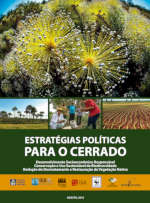 Responsible Socioeconomic Development Conservation and Sustainable Use of Biodiversity Reduction of Deforestation and Restoration of Native Vegetation.

Click to download document (8 MB)
Promotion of Socio-Ecological Productive Landscapes
Dona Lúcia and the Kalunga women received support for the development of socioenvironmental projects under the Independent Fund for the Promotion of Socio-Ecological Productive Landscapes (PPP-ECOS – the Brazilian version of the GEF/UNDP Small Grants Program), an ISPN strategy for environmental conservation through the sustainable use of nature. In a context that is unfavorable to the environment in Brazil, South America and the world, initiatives like these contribute to rescue, protect and enhance the livelihoods of traditional populations and to global environmental sustainability, of which the Cerrado is key.
These projects are also one of the ways used by communities to strengthen the fight to protect the territory where they live. "We embraced the project to rescue our territoriality, as we were losing culture, losing space for deforestation, losing our water sources. The crops were also weakened due to lack of water, the territory is being degraded", says Dona Lúcia.
In the case of Kalunga women, the project developed by the community contributed to the qualification and adequacy of their products for sale at local farmer's markets. The production gained colors, images, and identity. In addition, instruments and materials were used to assist the processing of fruits and plants, which further strengthened the activity. "The work of these women became more valued, the plants started to have an economic value for the community, which has contributed to the quality of local life", says Jaqueline Evangelista, one of the Project's advisers. Consumers were also satisfied with the products in more resistant and beautiful packaging, containing more information. There are more and more people interested in eating and beautifying themselves with the oils, seeds, and fruits of the Cerrado
The Cerrado, with all its dimensions and ecological and social diversity captivates, impresses and stands out when we talk about commitments to the environment at a global level. Its integrity is related to the stability of other ecosystems around it, such as the Amazon and other biomes in neighboring countries. Electricity generated in the country, the rain that arrives in the southeast, the carbon stock and the water that irrigates the northeastern fruit plantations demonstrate the connectivity of the Biome. Keeping the Cerrado alive ensures strength and elements for us to thrive on a healthy planet, in which productive and sustainable landscapes connect. In the heart of South America, there is an inverted forest that can help us create a world with social justice and environmental balance.
"Our life is the Cerrado Alive"
"The Cerrado is considered by us and people who came before us as our water reservoir, our sustainability, and our life is related to the Cerrado Alive, it's where water comes from and without water there is no way for a community to survive."